| Wednesdays | Thursdays |
| --- | --- |
| All residences south of James Street, including both sides of James Street, Wall Street, all of North and South West Street including the west ends of Hudson, Prospect and Clinton Streets, as well as Burgett, Bedford, Miller, Brentwood, Suits, Stanford, Ferndale, Balmoral Way and Phelps Drive. | All residences north of James Street, including Water Street, and all of North and South Main Streets. |
Please note that holidays can affect the trash pickup schedule due to the County Landfill being closed.  Changes are published in the Cortland Standard, announced on WXHC 101.5 FM, and posted on the bulletin board on the homepage of this website.
2021 Holiday Pick-Up Schedule
Week of 1/1/2021
Friday delayed 1 day
New Years
Week of 5/31/21
All pick-ups, 1 day delay
Memorial Day
Week of 7/4/21
No delay
4th of July
Week of 9/6/21
All pick-ups, 1 day delay
Labor Day
Week of 11/25/21
Thursday & Friday, 1 day delay
Thanksgiving
Week of 12/25/21
No delay
Christmas
---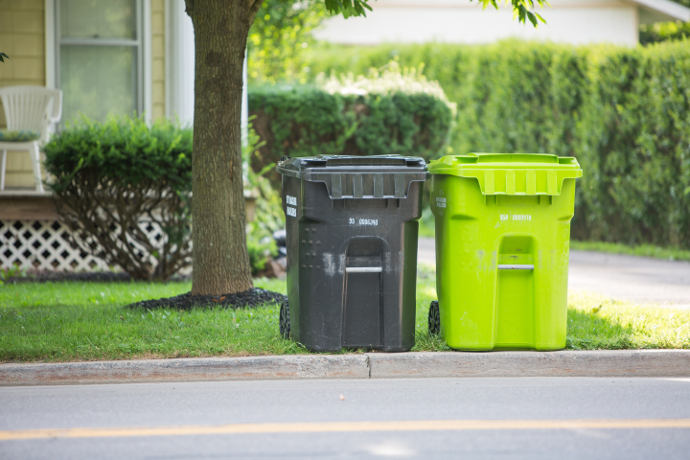 All trash (no yard debris) must be out to the curb, or in an area that has been cleared near the street, curb, or driveway, by 6:00 am on your scheduled pickup day.  Trash must be in clear plastic bags not weighing over 25 pounds per bag.  Single-family homes are limited each week to 10 bags
Trash is defined as anything that is generated normally within a household during a week's time. This does not include items such as: white goods, TVs, computers, small appliances, carpeting, building supplies, furniture, large tree limbs, tires, tire rims, or garden materials other than apples or corn husks. Items not included for pickup must be privately contracted through a local hauler.
---
Recycling Rules & Procedures
Recyclables should be placed curbside, by 6:00 am on your scheduled pickup day. All recyclables should be placed in the green cart, nearby your black garbage cart.