About Martin
As a municipal historian and independent historian, Sweeney researches, educates, promotes, and celebrates the history and architecture of Historic Homer, New York, which includes two Historic Districts: Old Homer Village and Glenwood Cemetery.
Besides articles in The New York History Review and a regular column in The Homer News, Sweeney has published three works of historical non-fiction. Lincoln's Gift from Homer, New York: A Painter, an Editor, and a Detective tells the story of three native-sons of Homer with significant ties to the life and legacy of President Abraham Lincoln: Francis Bicknell Carpenter, William Osborn Stoddard, and Eli DeVoe. Death in the Winter Solstice: A Narrative of a True Murder Mystery in Homer was published as a fundraiser for the Cortland County Historical Society and describes the unsolved murder of Patrick Quinlan in 1894. Inspired by this "cold case" from Homer's past, Sweeney wrote a work of historical fiction, The Suffragette's Saga: A Murder Mystery. Martin's third work of historical non-fiction is titled THE HEART OF CENTRAL NEW YORK: STORIES OF HISTORIC HOMER, NEW YORK. It is an informative and entertaining compilation of Martin's articles on local Homer history that appeared in the Homer newspaper over a ten-year period. It has been described as "local history at its finest." It is available through Amazon.com or at Bev & Co. in the historic Barber Block on Main Street in the village of Homer.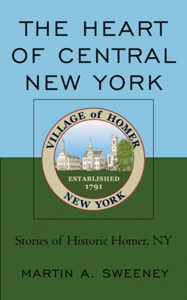 For history on Homer, please follow the drop down menu pages on townofhomer.org that read "About the Town of Homer", or contact Martin.